Grundig IT Newsletter
Computing News That You Can Use – March 2022
Considerations For Moving Applications To The Cloud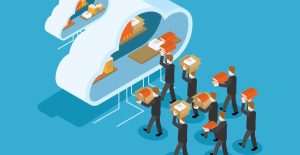 Quote of the Month
"Life is 10% what happens to you and 90% how you react to it." —Charles R. Swindoll
The inevitable march of technology has skyrocketed computing into the cloud, and many common applications are following suit. A number of software providers who have long-standing desktop popularity are now pushing their users to work with their cloud services instead. With tax season at hand, the one we've heard the most about recently is QuickBooks. Users of older versions of QuickBooks Desktop will have to upgrade by the end of May 2022 be able to continue using add-on services for Quickbooks, like Payroll and Payments.
QuickBooks Online is not a new product, but it has recently become much more visible due to other choices Intuit has made. In the past, a license purchased for QuickBooks Desktop would be valid for three years, but since 2020, Intuit is only offering yearly subscription licenses, no longer offering a one-time license option. This change means customers will no longer be able to use the same version of QuickBooks Desktop for several years, and instead will be on a regular, repeating subscription payment plan. The change makes the cost difference between the two products (QB Online and QB Desktop comparison) much less noticeable, and has prompted more interest in the fully online version of their products.
The pricing policy changes are not just Intuit's doing, either. Once, purchasing a software product gave you rights to that software, but more and more commonly, software is coming with a recurring subscription fee. Instead of purchasing a product, you're renting it. Microsoft has started this with their Office 365 line of products; Adobe no longer offers standalone sales of Acrobat or Photoshop, instead using a subscription to the Adobe Creative Cloud, and AutoDesk has a yearly subscription for AutoCAD. In some cases, you can still acquire the licensed product instead of the subscription (Some Microsoft resellers still offer Office 2016 and 2019, for example).
I'll start with a few facts about Cloud-based applications in general, and move more specifically to QuickBooks later. When you move your applications from a local server to the cloud, there are a few changes that come with it. The most obvious difference is the need for an internet connection; With a locally-hosted software, your functionality is not explicitly limited by the whims of Comcast Xfinity service outages (or those of other providers). Less obvious, but linked, your effectiveness is going to be limited by the current internet speed. If you're running the QuickBooks Online software from a home network, your functionality may be affected by other people in the house if your network is not robust enough, and a family member streaming video or downloading a number of large files may hinder the responsiveness of a purely cloud-based application.
In the same vein, most cloud-based applications store their data in the cloud – you won't have QuickBooks files on your desktop computer. This is a transfer of responsibility, and if a ransomware breach hits your network, the Intuit data servers won't be affected, allowing you to still work from another safe location. The counterpoint to this is that in the unlikely scenario where Intuit does get hacked, nothing you can do will be able to help the situation, and you may have outages in your ability to work. Anyone who's extensively used cloud storage (Google Drive, OneDrive) can tell you another advantage of Cloud-stored data: It becomes incredibly easy to share. If you have an external accountant, it becomes easy to share the data in the cloud, rather than having to transfer a full QuickBooks data file by email or other means.
Cloud-based applications often have a different issue with functionality. QuickBooks Desktop is much more fully-featured than the QuickBooks Online. A lot of cloud-based software is bound to the browser and needs browser functionality, in contrast to the desktop version which has an entire user interface focused on the QuickBooks experience. Many browser-tied applications lose right-click functionality, because the browser claims right-clicks for its own uses.
A more useful part of having a cloud-based application rebuilt from the ground up, however, QuickBooks Online has been often cited to be easier to learn for new users than the desktop version which has had features developing for decades now. A fresh program can approach their user interface in a way that an existing software trying to upgrade cannot. A final advantage of cloud-based applications is the updates:, you won't have to download and install updates – they are automatically handled by the hosting company.
For the long-time users of QuickBooks, you find yourselves staring at a choice of two familiar products. Unless you were a minimalist in utilizing QuickBooks features, Desktop is going to be more powerful and more familiar than Online, and moving to the cloud-based application would feel like a downgrade in some power for an upgrade in convenience. However, in addition to the sharing I've already mentioned, a cloud-based application can be accessed from anywhere, so you can start your accounting at the office, continue the work on your home laptop, and then have your co-worker finish up things on their computer.
Technology is always changing and advancing, and will shift more and more applications to the cloud, forcing the consumers to adapt. In some cases, the changes are general improvements, and in other cases it will feel more restrictive, but either way it's something that you will have to adapt to. While we took a specific look at Intuit QuickBooks, every cloud application has its own merits and drawbacks, and will have to be looked at individually. Grundig IT is adapting to the changes, helping clients move to the cloud.
Need Help?
We are happy to answer any questions you have about the risks and rewards of cloud-migrating your applications. Feel free to reach out with any questions!
Tom Grundig – 925.528.9081 – tom@grundigit.com