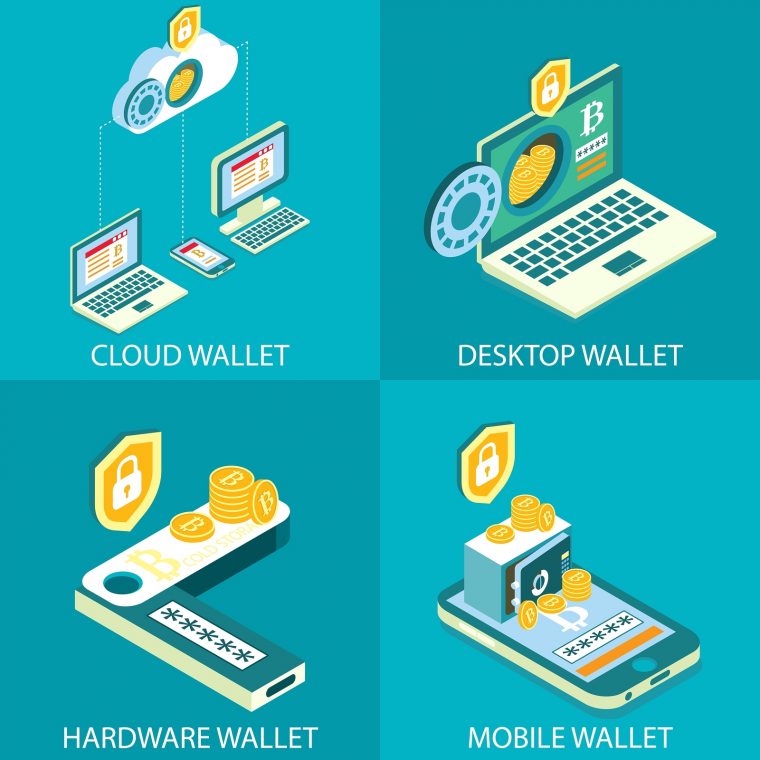 So, you want to get involved in cryptocurrency, but you don't know what a cryptocurrency wallet is or what the best cryptocurrency wallet is?
The world of cryptocurrency is all about data security. One of the most serious concerns in cryptocurrency markets is the security of digital funds. The best place for your cryptocurrency is in a 'wallet'. This functions almost like the wallet in your pocket; it's a place to store your currency that is easily accessible to you, and only you.
Cryptocurrency wallets are (usually) software programs written to keep track of your digital gold, while also keeping it secure. If you're not sure what cryptocurrency is, read out previous blog, What is Cryptocurrency, Anyway?
Kinds of Cryptocurrency Wallets
Here's How the Types Break Down:
Hot Wallets
Software: Desktop / Mobile / Online – Nothing Physical
Cold Wallets
Hardware: Equipment – USBs – Plugged Into Your Computer / Laptop / Phone

Paper: Printed QR Code
Hot Cryptocurrency Wallets
Hot wallets are called hot because they are connected to the Internet. This also can mean it's easier for hackers to hack into and steal your valuable coins from you. Examples of hot wallets include free wallets at your favorite bitcoin exchange website like Coinbase or Kraken and mobile app wallets.
Some hot wallets offer more than one method of accessing the wallet. For instance, Bitcoin Wallet is a desktop application and a mobile app. The unifying distinction with hot wallets is that they aren't physical, you can't put them in a drawer. They're online only.
Desktop wallets are most common type. Typically there's an app that connects directly to a coin's client. Examples are Exodus and MetaMask.
A cloud wallet is a web-based wallet. You do not download an app, but rather data is hosted on a real or virtual server. Some online wallets are hybrid wallets allowing encryption of private data before being sent to the online server. Some wallets let you control your private keys, some are custodial (you do not control your keys directly). An example is MyEtherWallet.
Mobile Wallets are run from a smartphone app. Examples are Coinomi, Mycelium.
Jaxx and Electrum allow desktop, web-based and mobile app access to your wallet.
Cold Cryptocurrency Wallets
Cold wallets are the preferred storage method for people with a significant amount of bitcoins. This is because of the increased security of being non-connected to the internet. Examples of cold wallet include paper wallets and hardware wallets- both places without internet access.
Cold Wallets: Hardware
This is dedicated hardware that is specifically built to hold cryptocurrency and keep it secure. This includes USB devices. These devices can go online to make transactions and get data and then can be taken offline for transportation and security. There are three main brands that are very popular among crypto owners. These are Ledger, Trezor, KeepKey. All three will cost you some money but will definitely help keep your virtual treasure chest safe.
Cold Wallets: Paper
You can print out a QR code for both a public and private key. This allows you to both send and receive digital currency using a paper wallet. With this option, you can completely avoid storing digital data about your currency by using a paper wallet.
Software you can use to generate the printable data for you paper wallet include Bitcoin Paper Wallet, Wallet Generator, and BitAddress.
Of course, you could also keep a "paper wallet" by just writing down everything you need to know about your money to use it. This is physically possible, but extremely unwieldy and unsafe as far as security goes. This is not recommended.
Suggestions to Secure your Crypto Wallets are:
Use antivirus and anti-malware software on your desktop or laptop.

Have a strong and secure firewall installed.

Use Punycode alert chrome extension to do phishing attacks on yourself.

Never install unverified software or apps on your device.

Do not get phished and always check the URL twice before accessing your web-wallets.

Use only trusted wallets and always update them ASAP.

Use 2-FA authentication in case you have stored crypto for a day or two on exchanges.

Do not use brain wallets and keep your passwords very hard to guess or brute-force.

Avoid accessing your crypto wallet from a public wifi.

If you're using a paper wallet, print multiple copies of each token and store them in different places.
Key Principles to Consider Before Selecting Your Wallet:
Security: Remember that any device connected to the internet is a potential security risk.
Comfort: You should choose a wallet that suits your personal needs.
Utility: You can use some wallets for direct trading on decentralized exchanges, accessing Web3 applications, and other features to tech-oriented user might value.
Recovery: Be sure that your wallet is recoverable in case of loss or damage.
Cost: Because the cost of crypto wallets varies from free to a couple of hundred dollars, this can influence your decision.
Compatibility: Compatible with different operating systems.
In Conclusion, If you are a user of cryptocurrency then it goes without saying, you need to have a cryptocurrency wallet. Not only do they keep your funds safe and secure, it makes transactions simple as well.
Grundig IT has nothing to do with Cryptocurrency, except that we love security and technology. If your company has security or technology needs, trust that Grundig IT not only knows what to do, but enjoys it, and will make the process more enjoyable for you too. Contact Grundig IT today for any network management, security, data recovery, or other geeky needs.