Meet Mike Slavko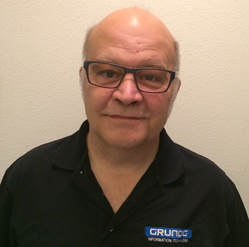 Mike joins Grundig IT as a desktop support technician with a wealth of IT experience, including retail/tech support at Geek Squad & Computerware, educational tech support at St. Mathews Episcopal Day School & Brandies Hillel Day School and high tech at Apple & Intel.
Mike's unique combination technical expertise and computer support will enhance the Grundig IT experience for all our clients.
Mike has lived in the Bay Area for over thirty years. He is originally from Michigan. When not at work, Mike enjoys podcasting, movies and life in the Bay Area.
Mike says "I am thrilled to be an associate of Grundig IT working with someone of Tom's caliber."
Tom Grundig, Owner of Grundig IT, says "The addition of Mike Slavko to the team will enable the company to continue to grow while maintaining the excellent reputation of outstanding customer service and technical expertise that Grundig IT has established over the last 11 years."