Regular Maintenance for both workplace and home computing
Over the last few months we took a look at ways to get your business more efficient with Google Apps or Office 365. This month we'll be taking a look at regular maintenance to help keep your computer clean and healthy.
If you feel overwhelmed with your computers slowness, and would like help with cleaning it out or even upgrading it, we offer these services to anyone working with us. Just let us know and we will be more than happy to help you out
As usual, feel free to suggest topics which you would like to see covered in an upcoming newsletter or on the Grundig IT news page, which can be found at under the News tab at www.GrundigIT.com
As Always, Happy Computing!
— Tom Grundig
Cleaning up: Viruses, Temp files, and more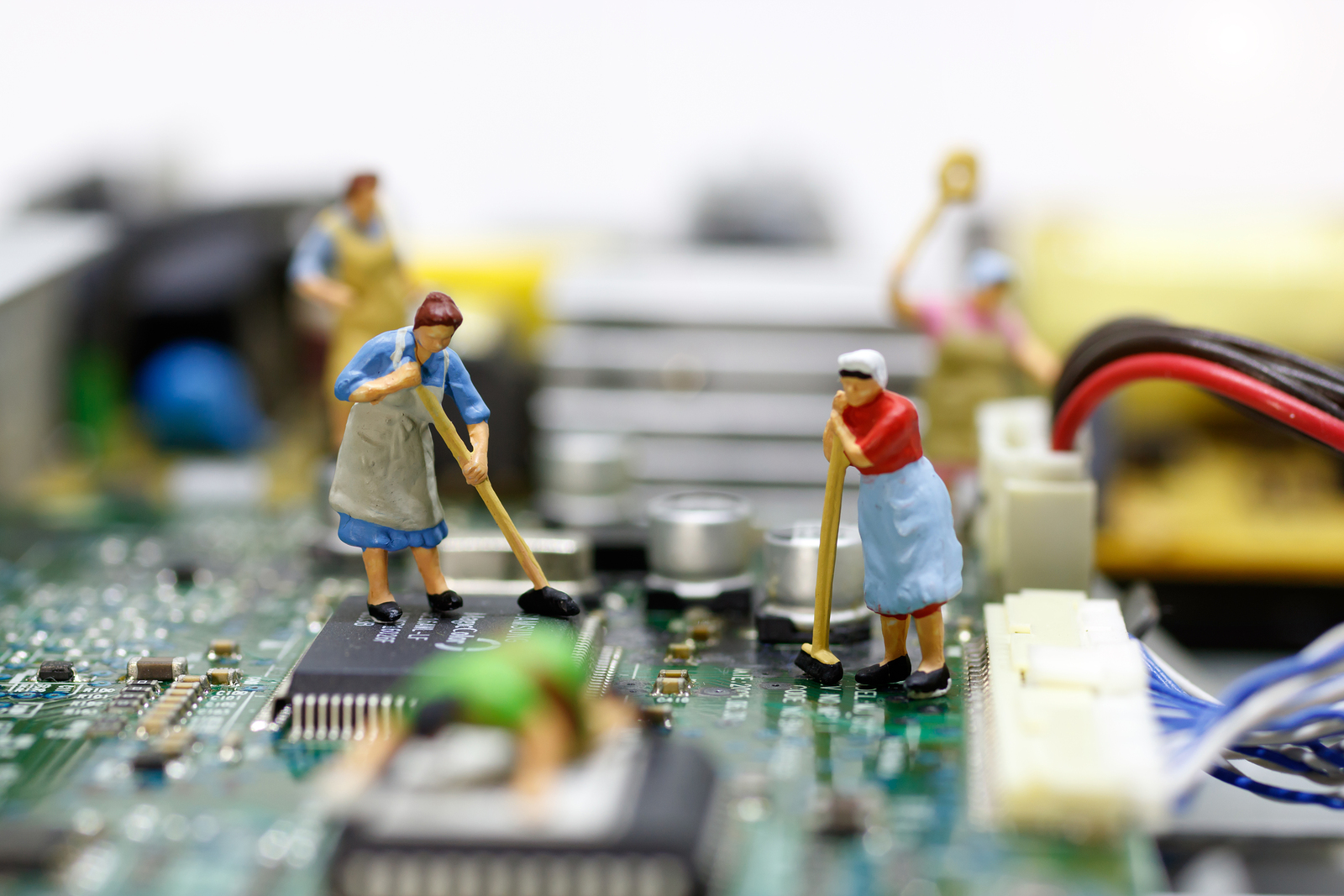 Much like keeping your living area clean, your computer is something that should remain clean, or you increase your risk of damage, or viruses on your machine. Luckily, there are plenty of tools to help us clean up our machines, and in this newsletter I'll be going over a number of them to get your machines running efficiently and clean.
Windows Defender/Microsoft Security Essentials are great tools to start out with. These are free programs available through Microsoft, and they do a great job with handling adware, smaller viruses, and overall internet security and protection. This tool has become Microsoft's premier protection item, and it is automatically brought into Windows 10 systems to handle protection.
Viruses aren't the only thing that need to get checked for and cleaned out. If your computer is running slow then you may have a good amount of temp files weighing down your computer. These temp files are created whenever you install a program, uninstall a program, start a download, and more. Most of the time Windows will automatically delete these temp files, however some can remain, and those that do build up over time. To delete these files, we reccommend following this guide : how-to/software/how-to-clean-up-the-temp-folder-in-windows-3273110/
Another good way to ensure your computer is running well is to regularly perform Disk Defragmentation and Error Checking. These will help shave off some space and also check the hard drive for errors. They are useful tools built directly into windows that will help keep your PC healthy, and let you know if there are any issues that help.
On top of the tools mentioned towards the beginning of the article, there are other tools if a virus seems to be more in-depth than what Microsoft Security Essentials is prepared for. To deal with these more troublesome viruses that could be slowing down your machine, we prefer to use the program Malwarebytes. Malwarebytes is a free software, up for download at malwarebytes.org. It has a more in depth scanning tool, and they offer a premium version for proactive protection from viruses.
Keeping your computer clean is very important to the longevity of the system. By ensuring your system is free of viruses and that temp files are regularly cleaned out, you can fix a lot of "slowness" issues that you would typically see over the years. By keeping your system clean you also reduce the risk of running into more viruses, keeping your information and anything stored on your computer safe as well.
— Tom Grundig 925.528.9081 tom@grundigit.com