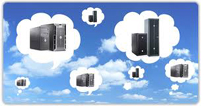 Cloud computing refers to computing that is taking place somewhere other than on your computer or local server. Since the computing in cloud computing takes place elsewhere, it requires a good, stable internet connection to be accessed from your PC, laptop, Mac or smartphone.
For example, web-based email can be considered a cloud service and has been around for a long time. Other, newer services, such as Google Docs, Office 365 and others are becoming more popular every day. QuickBooks online and Salesforce.com are other good examples of a cloud-based computing service.
There are several key attractions of cloud-based services:
1) Cloud-based services can reduce the need for having to buy, implement and maintain hardware and software onsite. It's like renting vs. owning.
2) Another major benefit of cloud-based services is the time it takes to get them setup. Some services can be setup and used almost immediately, while others take a day or two.
3) Additionally, since most cloud-based web services are accessible through a browser, it's easy to access these services on any desktop or laptop and even on some smartphones.
Nevertheless, cloud computing does have some potential drawbacks:
1) Dependency on the availaibility of an Internet connection – If your Internet connection goes down or is unreliable, you will be unable to access cloud-based services.
2) Security – Securing your local network is hard enough as it is. Securing cloud-based services is up to the provider of the service and there is often no way to verify how secure the provider's network, data center and servers really are.
3) Migration – It is often harder to get your data back out of a cloud-based service than it is to get it in there in the first place. This could prevent you from switching easily to another provider in case you decide to discontinue the service.
In conclusion, cloud-based services have the potential to reduce costs and increase flexibility, but anyone considering a move to such service must take into account the potential availability, security and setup costs.
Be sure ask Grundig IT if you have any questions or concerns regarding concerning cloud computing services and how they may benefit you or your business.