Grundig IT Newsletter
Computing News That You Can Use – November 2020
OK. Usually, we are talking about computers, IT and other ways to enhance and grow your business with technology. This time, a slight detour. Phones. Equally important, but not focused on so much.
I have an iPhone and have used one since I switched from Blackberry (remember Blackberry?) a long time ago. Benjamin has a Samsung (Android) device. Both are great and perform similar functions. Which one is better is really a matter of preference. But there are some cool tips and tricks that we have discovered along the way which might help you to save time and avoid data loss and frustration . . .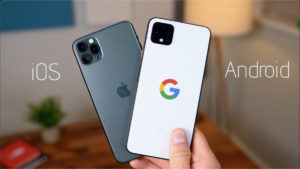 iPhone:
Here, I will briefly cover 3 iPhone (and iPad) areas: backup using iTunes, transferring photos to a PC without file copy errors and ways to save storage.
A few years ago on a trip to San Diego with Pauline and Jackson, I swam in the hotel pool with my iPhone still in my shorts. Phone dead! Luckily, since I had my computer with me and had recently backed up my entire phone using iTunes, I was able to hop on over to the Verizon store, purchase a new phone and restore the entire original phone to it.
To make this possible for you, download iTunes on your computer (even if you are not interested in the music), install it, run iTunes, then connect your phone via USB connection to the computer. iTunes will recognize it. Click the Phone icon in iTunes, then select to back the entire phone up. Make sure to remember the password if you choose one during the backup process. It will be needed to restore. Restores are performed from the same interface in iTunes.
While your iPhone is connected via USB, you will see it appear as an icon in Windows Explorer. From here, it is possible to drill down to the DCIM folder to transfer phone images to the PC. If there a problem transferring the images (copies not completing), adjust the Photos settings on the phone, as per the following YouTube video that allowed me to do it – SOLVED: Fix The Device is Unreachable When Copying Files From iPhone to Windows. In my case, in Settings -> Photos, I had to change the setting for 'Transfer To Mac or PC' from Automatic to Keep Originals.
Storage on the iPhone can be manipulated by going to: Settings -> General -> iPhone Storage. Here, one can Offload Unused Apps and Review Apps and Storage for each for possible deletion.
Android:
A lot of apps offer widgets to allow interaction on the home screen.
A lot of apps can offer the convenience of widgets to make using or accessing them a bit easier. For example a lot of music apps have an easy-access control panel to play music and skip around different songs. I have a weather widget on my phone telling me what my local weather was. My bank offers a widget to quickly check any account movements. I have lots of options to look at my calendar or email. While I could just open up my Calendar app to check my daily appointments, I much prefer my home screen to show me today's tasks without me having to open anything up.
I recently picked up a habit of listening to audiobooks, and I installed the Audible app on my phone. You can see it right there on my home screen. I would rather have a widget that can pause and play the audiobook without my having to open up the app – I only really need to open up the app if I want to switch books. So, let's add a widget!
First, go to a blank spot on your home screens. Since my first page is full, I am using my second page to add this widget. Press and hold on the empty spot on the screen and it'll pop up a home-screen editing screen, and at the bottom there's a button labelled 'Widgets'. Open that up, and you'll start seeing all the widgets available to you. Android comes with a lot pre-installed, and many apps, when installed, will also have widget options; They'll either have a size next to them (like 3×1 for my authenticator app) or a number with a box by it, showing that there are numerous versions of the widget available. Audible has two, so I click on that, and it'll open the Audible widget options. There's a large 4×2 widget, and a small 4×1 widget. I prefer the compact version, so click that, and drop it on my home screen.
Reduce alert clutter: Settings > Notifications, You can click off alerts from apps you need access to but don't want frequent messages from.
A problem I've run into is a lot of notifications clogging up my screen from numerous emails and background apps. I very aggressively turned off apps I don't care about, so only the really important ones pop up on my screen (I really don't need Samsung Health app telling me my steps unless I'm looking for it. And I really don't want YouTube telling me some random person posted a video!)
Time to filter. Open up your Settings, and click on 'Notifications'. It'll have a list of apps that are giving you notifications. Figure out which you want to send you alerts and which alerts you always get but don't want. You'll have a better idea of which notifications you don't want, so just scroll down the list and disable them. I'd also make a note of which they are, so that if you decide you want them back, you know which to do. Now, hopefully, every alert notification that pops up will be something you care about!
Automatically back up photos to the cloud using Google Photos.
This is one I'm fond of, but also has a bit of a trick to getting it working. I use Gmail and Google often, and they offer backup and storage for your photos. However, my phone is a Samsung, so the default photo app isn't actually the Google photos app. Google makes backup easy, but Samsung does not.
Let's go to our phone search and get the right app. Google has a 'Photos' app, and Samsung has a 'Gallery' app. My phone defaults to the latter, but the former is what we want. When it loads up, if you haven't set up a backup, it'll offer you that as an option. There are, actually, two options: a compressed backup, where they offer you unlimited storage but the photos get compressed to a smaller size, and an uncompressed storage with limited space. I don't mind having my photos compressed, so I chose the former, but you can make that decision for yourself.
Here are a few suggestions from Benjamin, with his preferred tips in bold . . .
A lot of apps offer widgets to allow interaction on the home screen
Cleaning up unused storage/data: Settings > Device Maintenance, suggests quick ways to improve performance
Reduce alert clutter: Settings > Notifications, You can click off alerts from apps you need access to but don't want frequent messages from.
Unwanted pre-installed apps can be disabled – even those you can't remove due to being built-in. Settings > Apps > Disable
Google-linked phones can Find Your Phone app for misplaced phones, even if silent.
Automatically back up photos to the cloud using Google Photos.
Google Maps allows you to save an offline map of an area, in case you don't have cell connection, although in some areas the GPS doesn't work either.
What are some of the tricks that you have learned with your phone? We'd love to hear from you.
Contact Grundig IT
Contact us at Grundig IT by calling (925) 528-9081, or schedule a consultation by clicking here. Regards and happy computing!